Boca Grande is a hidden paradise with beautiful beaches, fine dining, shopping, and some of the best fishing in the world. Located on the Southwest coast of Florida on the Grand Barrier Island called Gasparilla, it is a step back into "Old World" Florida, a carefully preserved part of Florida's history and beauty.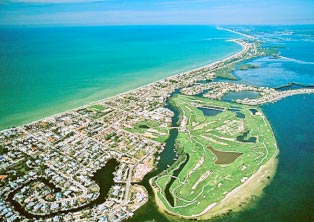 Boca Grande Fishing
An anglers paradise, prime fishing is found in Lemon Bay, Stump Pass, and the Gulf of Mexico. Known for it's abundance of redfish, grouper, and snook, this area is also known as the Tarpon Capital of the World! There is a golf course on Boca Grande that many presidents have played on!
Many people come to the beautiful Boca Grande Beach to spend the day swimming, shelling and fishing. A tranquil seven mile long island that boasts no high rises and no traffic lights, a 104-year-old lighthouse, and a street with 80-year-old Banyan trees. Pristine white sand beaches stretch the entire Gulf side of the Island, while protected waterways weave in and around the natural mangrove shoreline along the bay side.
Bordered by Charlotte Harbor and Gasparilla Sound on the east, boaters can explore 750,000 acres of estuary — where freshwater and saltwater blend to provide nurseries for the oceans fish species. Recreational boating and sailing are popular pastimes, whether on your own, by tour or charter. Dolphins, white pelicans, osprey, and manatees are only some of the unusual species you will encounter.
Boca Grande Beaches, Shopping & Dining
A pristine beach with sugar white sand beaches offer shelling, swimming, and just plain relaxing. Even in the heat of summer, cooling westerly breezes provide welcome relief. Our village shops are an adventure, as our merchants literally travel the world in search of the unusual. The galleries present the works of local artists who have captured the spirit of Boca Grande in a multitude of media. Our restaurants each have their own unique style, featuring dishes made from the freshest local seafood as well as international specialties. Yet, the pace is slow, and family oriented recreation is paramount.
Southwest Florida has some of the best fishing in the world, and fishing is an important part of the industry and culture of Gasparilla Island. Every spring, tarpon fishermen head for the "Tarpon Capital of the World" to fish famous Boca Grande Pass. Boca Grande has been host to the "World's Richest Tarpon Tournament". This was the most famous tournament of its kind. Local marinas also host tarpon tournaments in season, and recreational fishermen share the "fishing hole" with tournament anglers, all vying for the thrill of the catch. Since tarpon are not an edible fish, catch-and-release is the operable word in the pass during Tarpon Season.
Few anglers keep tarpon for mounting, and taxidermists can make fiberglass mounts that exactly replicate the big fish you caught. Your guide will expertly take its measurements for the taxidermist if you ask him. Most tarpon anglers hire a fishing guide who provides the boat, equipment, bait, knowledge and a fishing license. Experienced fishing guides are available for tarpon, April through July, as well as offshore and back bay fishing year-round.
From the Gulf of Mexico to the backwaters of Charlotte Harbor, our waters teem with plentiful game and food fish. In addition to Tarpon Season in the spring, prime fishing times run from August through November, when offshore fishing yields grouper, snapper, mackerel and kingfish, and inshore fishing is excellent for snook and redfish. Recreational fishing in Boca Grande is an exhilarating sport all 12 months of the year! You can use your own boat, rent one, or hire one of our many local fishing guides.
Other popular local boating destinations include and the Gulf of Mexico, Cayo Costa, Punta Gorda's Fisherman's village, the Intracoastal Waterway, Captiva, Sanibel Island, Englewood Beach, Venice Beach and Cabbage Key.
The Out Islands
The "Out Islands" (Don Pedro, Palm, and Little Gasparilla) are a result of changing Gulf of Mexico currents back in the 1950's. When these currents filled in two passes an island was formed and two bridges were built to connect the island to the main land. In the early '60s the bridges were removed and this peaceful little area was forgotten for many years. Today, these pristine, residential islands remain unspoiled and enhanced by 7 miles of tropical, sandy white beaches. On Don Pedro, Palm, and Little Gasparilla, a leisurely pace is a must!

Real Estate for Sale in Boca Grande